In a world where automobiles are more than just modes of transportation, but sophisticated systems with improved driver assistance systems, self-driving capabilities, and enhanced connection, software is the key.
We specialize in designing software that elevates the functionality, safety, and efficiency of modern vehicles. From autonomous driving to enhanced connectivity, we're your go-to partner for cutting-edge automotive software solutions.
Types of Automotive Clients We Serve
Automotive Manufacturers

We create specialized software that aligns with the distinct requirements of each vehicle model. Every project is an intricate dance of technology and functionality, ensuring enhanced operation, fuel efficiency, and safety.

Auto Parts Suppliers

Efficiency is king in auto parts supply. We bring you software that streamlines supply chain management and enhances quality control, ensuring that every process, from inventory to delivery, is a masterpiece of efficiency and precision.

Connected Car Solution Providers

Vehicles are no longer just modes of transportation but have evolved into interactive hubs of connectivity. Our automotive software development services transform vehicles into complex systems that provide real-time data, infotainment, and an enhanced driving experience.
Our Expertise in Action
Curious to see our expertise in action? Discover how we have crafted a Web & App scheduling tool with DevOps implementation.
Designed with the user in mind, our solution offers a straightforward interface, allowing users to quickly browse dealerships, book, reschedule, or cancel appointments in real time. The backend provided dealerships with instant updates for seamless coordination.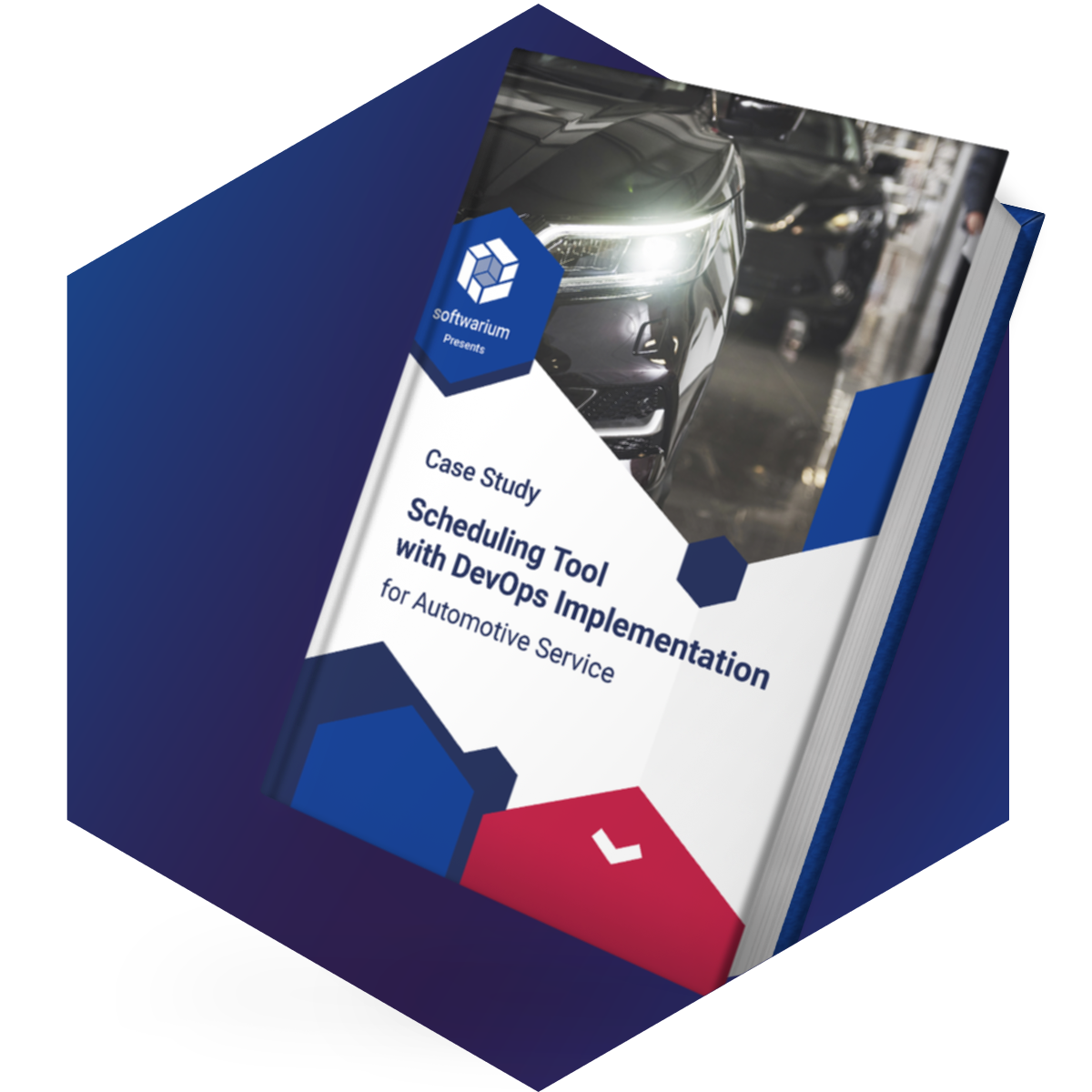 Benefits of Automotive Software Development with Softwarium
Quality Assurance

With our skilled automotive software engineers in charge, each solution undergoes meticulous quality checks. Advanced driver assistance systems, autonomous driving functionalities, and other sophisticated features are rigorously tested to assure seamless performance and safety.

Customization

In a world as diverse as automotive, compatibility with various vehicle systems and operational requirements is crucial. That's why our team is dedicated to crafting custom automotive solutions that are as unique as your needs, all while complying with industry standards.

Innovation

With a finger always on the pulse of the latest trends in the vehicle software technology, we integrate technologies like AI and machine learning to elevate software functionality and efficiency. Our dedicated automotive software represents the future of automotive industry, preparing your business to lead in a competitive market.

Support and Maintenance

We offer comprehensive support and maintenance, ensuring your software solutions are always optimized, updated, and aligned with the industry's best practices. Our automotive software engineer team makes sure that every aspect of your software performs at its peak, driving operational efficiency and customer satisfaction.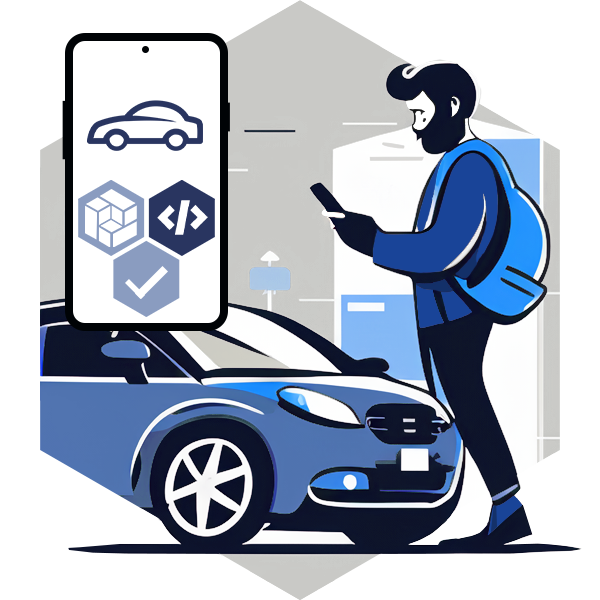 Our Automotive Software Development Process
Initial Consultation

Every journey with us begins with an in-depth consultation. We dive deep into understanding your specific needs, challenges, and goals in the automotive software landscape. Our expertise in automotive software engineering enables us to ask the right questions, gathering insights essential for crafting solutions that are not only efficient but innovative.

Planning and Designing

Every interface is crafted to offer impeccable user experience, and every backend system is engineered to enhance vehicle software development processes. We integrate industry best practices and advanced technologies to ensure the software is robust, scalable, and future-proof.

Development

The development phase is where our expertise in automotive software engineering truly shines. We leverage cutting-edge tools and technologies, integrating features that elevate vehicle performance, safety, and connectivity. Our automotive software developers focus on creating solutions that are not only in sync with current industry standards but are also adaptable to future innovations and trends.

Testing

Every piece of software is put through a series of rigorous tests. Our commitment to automotive software excellence means that we leave no room for errors. Functionality, performance, safety - every aspect is tested, so the software is ready to deliver exceptional results from day one.

Deployment

Our automotive software engineers ensure seamless integration with your existing systems, for every feature and functionality to align with your operational ecosystem, deliver enhanced performance and efficiency, and eliminate customer safety risks.

Post-Launch Support

Support is integral to our services. Our automotive software development services extend beyond deployment. With our vehicle software development offers, you get more than just software - you gain a comprehensive package of post-launch support. Every update and enhancement is handled by our software maintenance team, ensuring your operations are always at the top of software requirements and innovation.
Why Choose Us?
When it comes to automotive software engineering, Softwarium is a partner you can count on. We've got over 20 years of experience and know the best practices for automotive sector from the inside out. Every challenge you're facing, we've handled it before. Every innovation you're aiming for, we've delivered it.
Our team is skilled and adaptable. With each project, we tailor our approach to fit your unique needs and challenges, ensuring custom automotive software solutions that work seamlessly with your operations.
Choosing Softwarium means opting for a hassle-free, efficient, and tailored experience. Our commitment goes beyond delivering solutions - we're here to support your long-term digital transformation.
Learn how our tailored automotive software development can elevate your business and boost efficiency. Connect with our team of automotive solution experts, and explore your custom automotive software engineering opportunities.
connect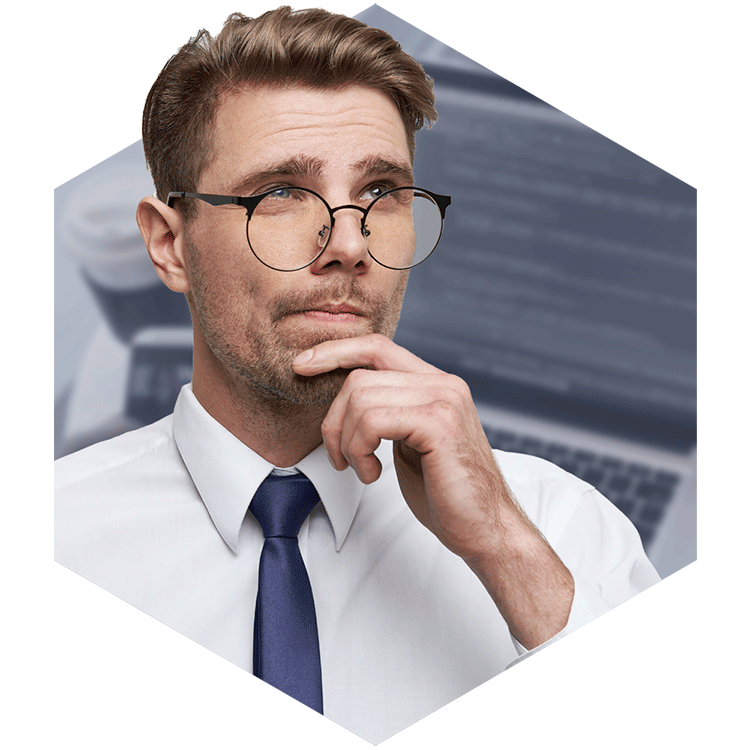 FAQ
What does automotive software do?

Automotive software enhances the functionality, safety, and efficiency of vehicles. It's instrumental in autonomous driving, connectivity, and advanced driver assistance systems.

What is the role of an automotive software developer?

Automotive software developers craft tailored software solutions that enhance vehicle operation, safety, and the driving experience.

How is programming used in the automotive industry?

Programming is essential in developing software systems that control various vehicle system functions, enhance both functional safety and fuel consumption, and enable connectivity and autonomous driving.